Centar za razvojnu politiku i saradnju (CRPS) ima zadovoljstvo da vas pozove da se prijavite na konkurs za omladinsku razmenu "Formal Education Meets Non Formal Learning – a story of success" koja će se održati u Limasolu, (Kipar) od 15.  do 21. novembra 2014. godine.
Pravo prijavljivanja i učešća imaju svi mladi iz Srbije starosti  od 18 do 28 godina. Prijavljivanje se vrši popunjavanjem aplikacione forme (ispod), za više informacija pišite isključivo na mail konkurs@crps.org.rs sa nazivom mail-a "KIPAR".
Organizator snosi troškove smeštaja i hrane. Učesnicima će biti refundirano do 275 evra troškova puta. Planiran je organizovan avio prevoz iz Beograda.
Radni jezik je engleski.
Slanjem aplikacije izjavljujete da se slažete sa uslovima prijavljivanja i učešća.
Važni datumi:
05.-10.10.2014 (23:59) – Rok za prijave
10- 13.10.2014 – Kontaktiranje odabranih učesnika
13.10.2014 – Rok za uplatu participacije (u iznosu od € 15) za odabrane učesnike
21.10.2014 – Predstavljanje programa i potpisivanje ugovora o učešću
15.-21.11.2014 – Program "Formal Education Meets Non Formal Learning – a story of success!"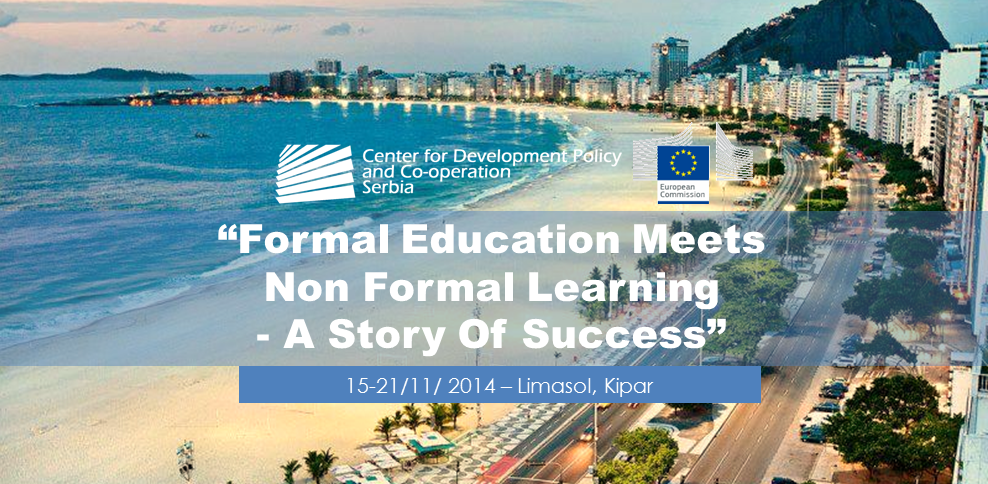 [box style="1 or 2″]
This training course is the result of our observation of a rising interest in non-formal learning and in how youth organisations, youth workers and youth leaders could use this to manage more efficiently their groups of learners and maximise the benefits
that young people get through it.
In line with the given EU policy towards recognition of NFL, this training course aims to train youth workers and youth leaders in the methodology of Non-formal Learning (NFL) and to explore how non formal learning can be used within the framework of formal education and also as motivation for reintroducing the school drop outs to the educational system or the labour market.
Using mainly non-formal learning methods (peer education, group discussions, presentations, interactive exercises, sharing for experiences and know-how etc.), we will focus on the key competences, their definition and how someone can design and implement a project, so as to maximise the learning achievements of the participants.
The main objectives of the exchange will be:
– to train youth workers and youth leaders in achieving the key competences.
– to exchange NFL methods, tools and experiences among the participants.
– to enhance the level of understanding for the key competences and to investigate
other methods for recognition of the learning outcomes by the learner himself.
– to encourage participants to develop their own tools and to learn how to adapt
existing ones in their daily work schedule.
CRPS- to spread the word through multipliers in local communities, who will try to bridge
the gap between formal and non-formal education.
– to investigate how NFL could help young people with fewer opportunities and
NEEDs to relocate in the society.
[/box]
ROK ZA PRIJAVE JE ISTEKAO 10/10/2014 23:59